Canadian death/grind act THY FLESH CONSUMED has unveiled the album art and track listing for its upcoming album, "Unrepentant". The group's fourth full-length CD is scheduled for release on November 10 via Diminished Fifth Records (via Sonic Unyon Distribution in Canada and Relapse Records in the USA). A European release date for the effort has not yet been announced.
"Unrepentant" was recorded by Andrew Watt at Common Ground Studios and was mixed by Andrew Watt and THY FLESH CONSUMED. The album was mastered by Chris Mitchell.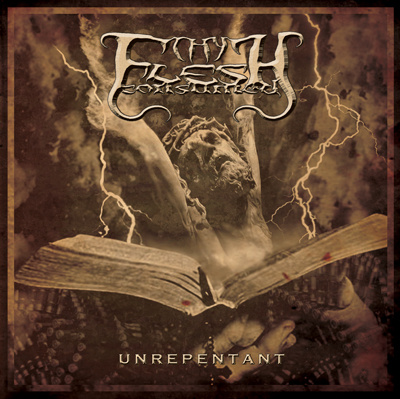 "Unrepentant" track listing:
01. Siege Engine Of Unreligion
02. The Disciplined Scorn
03. Blood Drenched Creation
04. The Demolition Of Thought
05. Ordinance Subservience
06. Devout Heathen
07. Hasten The Apocalypse
08. Sacrilege And Clarity
09. Thralldom Of The Crowning Mania
An MP3 of "The Disciplined Scorn" can be downloaded at
this location
.
Formed in the fall of 2001 with the sole purpose of playing fast and heavy music, THY FLESH CONSUMED evolved quickly into a serious band covering themes of animal rights, religion, socio-political issues, warfare, and the failing environment among others. The band's raw talent "has found order with their razor-sharp sound, harnessing the most extreme and aggressive elements of grindcore, black metal and death metal," according to a press release.
THY FLESH CONSUMED is:
Peter Mestre - Vocals
Gerald Smith - Drums
Dan Jamieson - Guitar
Dave Burns - Guitar
Ross Vickers - Bass
For more information, visit
www.thyfleshconsumed.com
.
Source: Blabbermouth.net
I've head of this band, but don't remember if I've heard them before. The new track is pretty good however.