Nevada-based death metal band I BUILT THE CROSS is making its entire debut album, "Bridging the Gap Between Mind and Heart", available for free download from the
Open Grave Records web site
.
The CD, which is scheduled for release on October 27, had leaked on a number of illegal file-sharing websites, so the decision was made to go ahead and get the album out there legally and allow people to obtain it from the direct source.
Said Open Grave Records in a statement: "We have come to find out that the I BUILT THE CROSS album has been leaked on the Internet a month and half before the release date. Because of this leak, we would like to give you the opportunity to download this album in its entirety legally for no cost from our web site. This is our way of saying thank you to the fans, we have best ones in the world. All we ask is that if you like what you hear, your support this release and purchase it from our webstore or
Divine Metal Distro
. The FREE LEGAL download will be made available until September 24."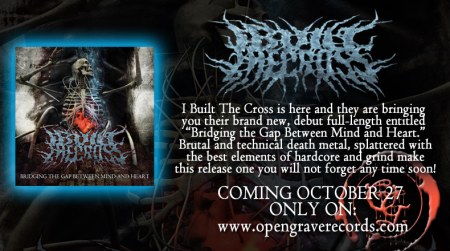 Source: Blabbermouth.net
This is more brutal deathcore than death metal, but worth checking out.