Reactivated Swedish death metallers DESULTORY will enter Necromorbus Studio (WATAIN, NOMINON, AVERSE SEFIRA, FUNERAL MIST, NEX, ONDSKAPT, MORK GRYNING, ADORIOR) in Alvik, Sweden in November with producer Tore Stjerna to begin recording their first new album in almost 14 years. The follow-up to 1996's "Swallow The Snake" will be released in early 2010 via Pulverised Records
Commented DESULTORY lead guitar player Håkan Morberg: "The [new] songs are a mix of fast and heavy melodic death metal with dark and melancholic lyrics, all in the true spirit of DESULTORY.
"The album will be a logical continuation of 'Into Eternity' [1993] and 'Bitterness' [1994] and will be a strong bridge linking the past to the present."
DESULTORY previously stated about it decision to reunite, "After our third album in 1996, we put DESULTORY to sleep and went on to explore other musical directions. But now, 13 years later, we are back again, we felt the need to create some new death metal and that it was time for DESULTORY to be reborn. The new material for the forthcoming record will be a touch of the old DESULTORY but mixed up with new influences. It will be hard, brutal and melodic.
"Two lineup changes. Håkan Morberg is now playing lead guitar (before he was playing bass) and Jojje Bohlin is handling the bass. Still Klas Morberg on vocals and guitar and Thomas Johnson smashing the drums."
For more information, visit
www.myspace.com/desultoryofficial
.
DESULTORY 2009 - from left to right: Klas Morberg, Håkan Morberg, Thomas Johnson and Johan Bohlin: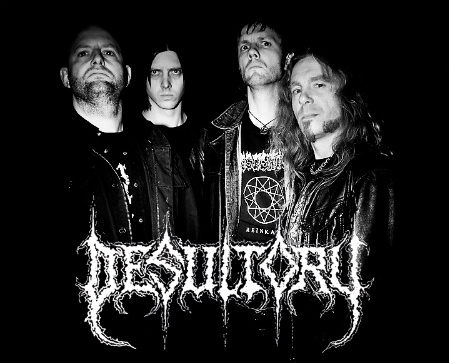 Source: Blabbermouth.net
Good news! This band had some decent recordings back in the early 90s.