Videoclips & Movies with Metal
So, first of, I'd like to say that I don't realy know where to put this topic. I haven't been able to find a place on the board
to put stuff like this. I could be mistaking, but Mod's should see this as an open invitation to relocate this thread to any
anywhere they see fit, preferably not the thrashcan though, seeing I've put quite some time in this post.
I thought it would be a cool idea to post some videoclips and movies in which Metal has been used either as a soundtrack or as
a sidedish/ minor plotitem in a story. This way I might be able to show you people a thing or two that can either be educational
or just for your viewing entertainment...I lied about the educational part though.
What I am NOT trying to accomplish is post stuff about metalvideoclips. I mean, it is obvious that those have metal and metal
references in them. I plan on making a new thread for that in the near future.
The list isn't in a particular order. And please forgive my spelling, I realise it may be shoddy at times.
Let me kick off with one of the most famous movies that has Metal in it, although we are talking about a great deal of so-called
proto-metal.
1. HEAVY METAL (1981)
This wonderfull piece of cult material is, as far as I know, the earliest animated-metal-related filmpiece. It features scantly
clad women, muscular men, violence and black humor, and is clearly meant for an adult viewing audience. Produced in Canada by
and for the comic magazine of the same name, the central story evolves around a green circle that is the embodiement of
evil itsself. There are 9 short stories in short, all in different settings. Artists featured on the soundtrack en the respective tracks
are:
1. "Heavy Metal" (Original Version) (Sammy Hagar) (3:50)
2. "Heartbeat" (Riggs) (4:20)
3. "Working in the Coal Mine" (Devo) (2:48)
4. "Veteran of the Psychic Wars" (Blue Öyster Cult) (4:48)
5. "Reach Out" (Cheap Trick) (3:35)
6. "Heavy Metal (Takin' a Ride)" (Don Felder) (5:00)
7. "True Companion" (Donald Fagen) (5:02)
8. "Crazy (A Suitable Case for Treatment)" (Nazareth) (3:24)
9. "Radar Rider" (Riggs) (2:40)
10. "Open Arms" (Journey) (3:20)
11. "Queen Bee" (Grand Funk Railroad) (3:11)
12. "I Must Be Dreamin'" (Cheap Trick) (5:37)
13. "The Mob Rules" (alternate version) (Black Sabbath) (2:43)
14. "All of You" (Don Felder) (4:18)
15. "Prefabricated" (Trust) (2:59)
16. "Blue Lamp" (Stevie Nicks) (3:48)
If you are not familiar with the movie (younger readers) you can find more info in this wiki:http://en.wikipedia.org/wiki/Heavy_Metal_%28film%29
2. HEAVY METAL 2000 (2000)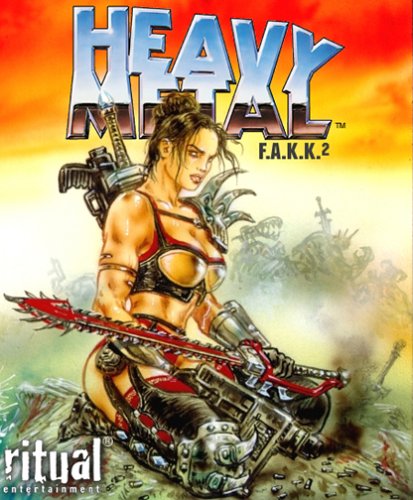 In the wake of a great cult classic follows this mutated piece of cinematic crap. It is blasphemous that a sequal this shitty has ever been
made and bears the same name. Also animated but it follows 1 story line. In the original, the clumsyness was charming, in this "2000" follow up
it is embarassing at the least to have to admit you saw the movie and sat the whole ride out (raises hand in guilt...I did).
This movie is poop, though it does feature artists and tracks that are 'more' metal.
Wiki-link:
http://en.wikipedia.org/wiki/Heavy_Metal_2000
3. WILD AT HEART (1990)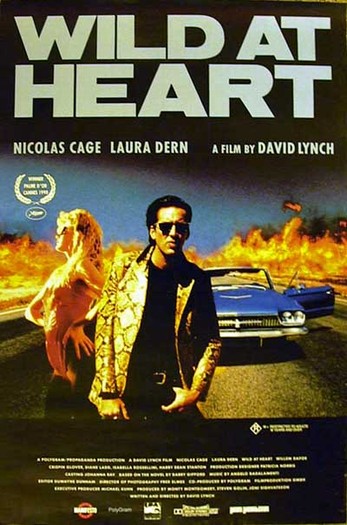 "Wild at heart" was shown on the Cannes film Festival of 1990 and comes from the hand of David Lynch. Nicholas Cage (whom I am happy to say did
not act crappy...I hate him in most movies) and Wille Defoe are the most famous actors starring in this movie. The metal is not
a big part here, it only appears as an interlude to some energetic scenes (when you know shit is gonna go down) and the band playing
the song is also featured in the movie when they perform in a disco/bar. The band? POWERMAD with the track "Slaughterhouse".
A clip:
Imdb-link:
http://www.imdb.com/title/tt0100935/
4. Ace Ventura - Petdetective (1994)
Whoever likes Jim Carrey likes Ace. One of his best movies (together with the Mask) if you like the kind of humor Jim stands for.
In e certain scene, Ace can be seen (although he doesn't want to, because he's being followed) at a concert of Cannibal Corpse.
A clip:
Imdb-link:
http://www.imdb.com/title/tt0109040/
5. Metal: A Headbanger's Journey
It's not completely fair to put this one in the list, but I guess it's the best documentary on metal out there. If you haven't seen it before
than Youtube has the answer for you.
Showing you part 1 of 19:
6. Wayne's World (1992) & Bill and Tedd's excellent adventure (1989)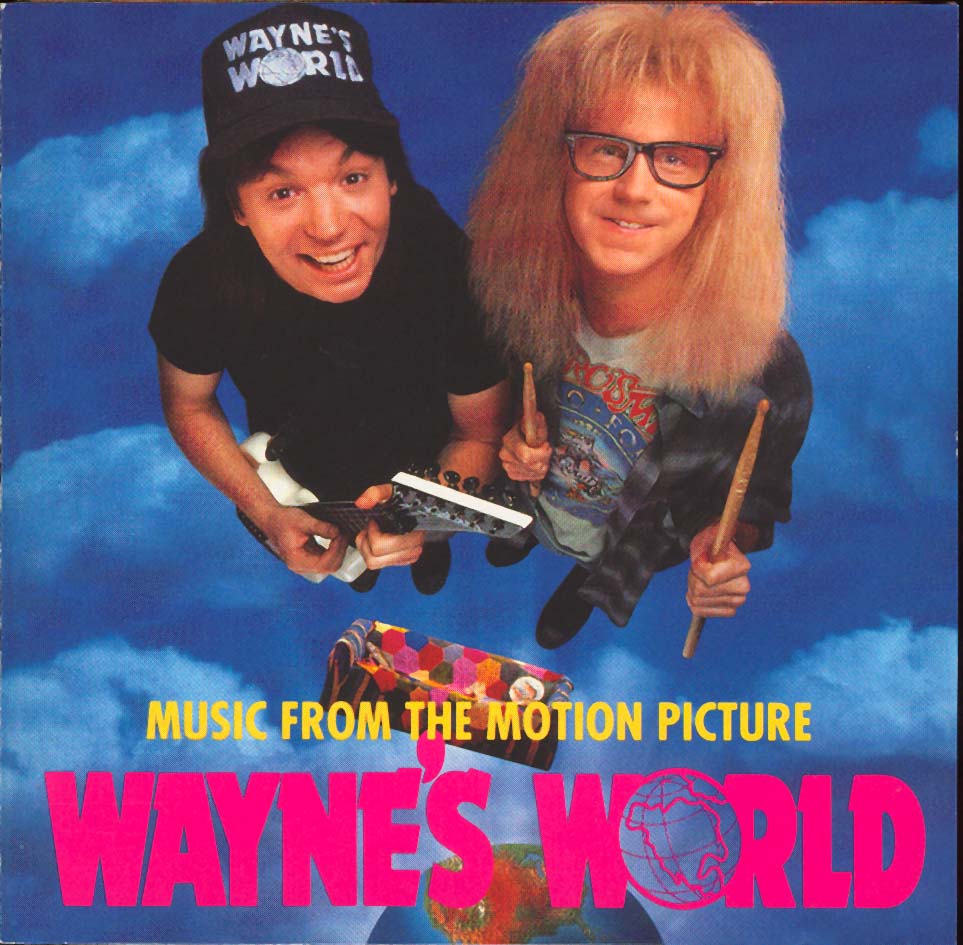 These two comedies (and their sequals) have large amounts of underpants-humor (onderbroekenlol as we say in Dutch). They almost constantly refer to
Rock and Metal. Wayne trying to organise a sort of Woodstock to win over some girl, and Bill n Ted trying to win a bandcontest
as the group "Wild Stallions".
Wayne and Garth doing a song...not realy metal, but neither is Aerosmith:
https://www.youtube.com/watch?v=5oAIh8BpGec
Bill and Ted as the Wild Stallions:
7. Detoroito Metaru Shiti (2008)
This movie is weird...and I guess you have to be Japanese to catch all the humor in it. That it's meant as a comedy is plain
to all. It's about a young student that leaves home to go and study in the big city. He plays guitar, want to make it big in the buiz, and
offcourse he meets a girl. He would like to be fashionable, but his soggy lovesongs don't do it for the public, than, there is his alter
ego named "Krauser", who is evil and bad-ass, and who looks like a demented clown/Kiss groupie hybrid. Krauser is the vocalist of the
DeathMetal band DMC (Detroit Metal City) and doesn't even vaguely sound like death metal, but lets just accept that for the sake of
conveinience. He doesn't want to be evil though, and so he tries to break free from his role as frontman in pursuit of his girl.
Care to give it a try?
8. Metalocalypse (2006)
Too obvious: A cartoon series about a deathmetalband called Dethklok and they actualy do make music (and clips).
At the moment, they have 2 albums out.
9. Korgoth (from Barbaria)
One of my all time favorite animated material, it is a shame and indeed a curse that cartoon network only allowed the pilot to be aired.
Korgoth is a Conan type of guy, not much for words, but good with a sword. The setting is a postapocalyptic world in which mankind
has fallen back to the stoneage and monsters roam the land. The pilot is featured on Youtube in 3 parts. The soundtrack is metal (80's)
and here is the intro:
Hope you enjoyed, feel free to add!