Freedom Call
is a power metal band from Germany. Formed by Gamma Ray drummer Dan Zimmermann in 1998. Chris Bay (Lanzer, ex-Moon'Doc, ex-GammaRay), Ilker Ersin (PowerWorld, ex-Lanzer, ex-Moon'Doc) and Sascha Gerstner (Helloween) completed the line-up for their debut album
Stairway To Fairyland
in 1999.
The band have gone through several line-up changes since the beginning and the current line up is: Chris Bay (v+g), Lars Rettkowitz (g), Samy Saemann (b) and Klaus Sperling (d). Their most recent album
Land Of The Crimson Dawn
was their 7th studio album, released in February 2012.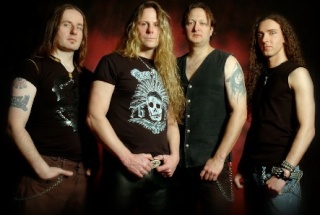 I picked up
Stairway To Fairyland
and
Eternity
some time ago and they are both great albums. Should be suitable for everyone who's into Helloween, Gamma Ray etc.
Discography:
Stairway to Fairyland (1999)
Crystal Empire (2001)
Eternity (2002)
Live Invasion (2004)
The Circle Of Life (2005)
Dimensions (2007)
Legend Of The Shadowking (2010)
Land Of The Crimson Dawn (2012)
Freedom Call @ Metal-Archives